Digital marketing is the act of selling products and services through channels such as social media, SEO, email, and mobile apps. Basically, digital marketing is any form of marketing that involves electronic devices.
It can be done online and offline, and in fact, both kinds are important for a well-rounded digital marketing strategy.
Digital marketing is the promotion of your business, brand, products, or services to your target audience on desktop, mobile, and smart TV screens. There are several types of digital marketing you can use, all of which we will discuss shortly.
But first, let's talk about why you should invest in digital marketing.
Why Is Digital Marketing Important?
In the performance section of the CMO Survey, recipients were asked, "To what degree has the use of digital marketing contributed to your company's performance during last year? (1=not at all, 7=very highly)"
The results?
"Across all sectors and firm sizes, this cannot be overstated with the average reporting a contribution of 5.5 (on a 7-point scale) to their companies' success."
The 2021 Gartner Digital Marketing Survey echoed a similar positive response about digital marketing performance, saying that "70% or more said their organizations had met or exceeded a range of 2020 goals, though that positive outlook may reflect performance against goals revised midyear versus set prior to the pandemic."
Why Digital Marketing Matters
Remember billboards? I do.
As a young kid in California, my experiences from the back seat of our car mostly alternated between: "Mom, when are we there?" and "Uh, look, McDonald's, can we go?" whenever one of those 10-foot billboards popped up on the side of the road.
Growing up with Indian parents, the answer to both of those would, most times, be the same: "not yet."
Sometimes, big brands would even start a billboard war, like this one between Audi and BMW, which got quite a few laughs:
In 2015, a ton of my clients still spent hundreds of millions of dollars on billboard advertising.
Unfortunately or fortunately, billboard advertising is mostly dead.
Just think of it this way: Google and Facebook generate more revenue than any traditional media company because they control more eyeballs. That's why digital marketing matters; it's where the attention is.
The reason why billboards, like the ones above, will die, is because the future of driving will look like this: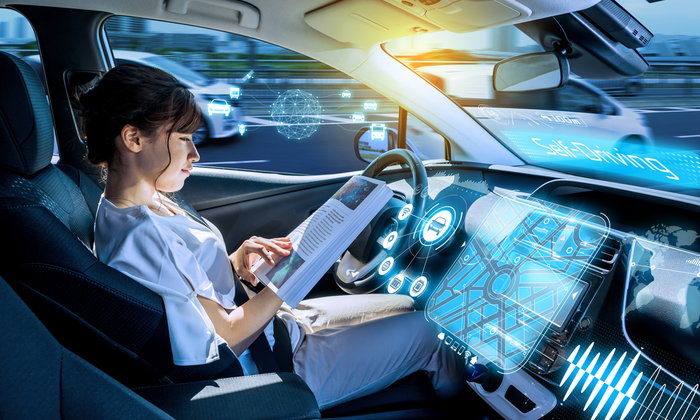 Although driverless cars already exist, drivers still have to pay attention; in the future, as the technology improves, not a single passenger will spend their time looking at the road.
Do me a favor, the next time you drive and are giving a friend a ride, take a peek at the passenger seat.
Just for a second.
Even now, chances are they'll be looking at their phone.
If no one is looking at the road anymore, who's supposed to see those advertisements?
What's more: the share of people spending more time using electronic devices continues to rise, while print advertising continues to decline.
That means you don't have much time to figure out this digital marketing stuff before you can power down your old school printing press and close up shop.
The History and Evolution of Digital Marketing
In a world where over 170 million people use social media on a regular basis, every working professional is expected to be familiar with at least the core tenets of Digital Marketing. In simple terms, Digital Marketing is the promotion of products over the internet or any form of electronic media. According to the Digital Marketing Institute, "Digital Marketing is the use of digital channels to promote or market products and services to targeted consumers and businesses."
People are consuming digital content on a daily basis. Very soon, traditional marketing platforms will disappear, and the digital market will completely take over. There are a number of advantages in Digital Marketing. Unlike traditional marketing, digital marketing is more affordable.

You can reach a larger audience in a shorter time period. Technological advances have resulted in considerable attrition of the customer-base of traditional marketing agencies and departments. People have moved on to tablets, phones, and computers, which are the areas where digital marketers have gained the most ground.
The term Digital Marketing was first used in the 1990s. The digital age took off with the coming of the internet and the development of the Web 1.0 platform. The Web 1.0 platform allowed users to find the information they wanted but did not allow them to share this information over the web. Up until then, marketers worldwide were still unsure of the digital platform. They were not sure if their strategies would work since the internet had not yet seen widespread deployment.
In 1993, the first clickable banner went live, after which HotWired purchased a few banner ads for their advertising. This marked the beginning of the transition to the digital era of marketing. Because of this gradual shift, the year 1994 saw new technologies enter the digital marketplace. The very same year, Yahoo was launched.
Also known as "Jerry's Guide to the World Wide Web" after its founder Jerry Yang, Yahoo received close to 1 million hits within the first year. This prompted wholesale changes in the digital marketing space, with companies optimizing their websites to pull in higher search engine rankings. 1996 saw the launch of a couple of more search engines and tools like HotBot, LookSmart, and Alexa.
1998 saw the birth of Google. Microsoft launched the MSN search engine and Yahoo brought to the market Yahoo web search. Two years later, the internet bubble burst and all the smaller search engines were either left behind or wiped out leaving more space for the giants in the business. The digital marketing world saw its first steep surge in 2006 when search engine traffic was reported to have grown to about 6.4 billion in a single month. Not one to get left behind, Microsoft put MSN on the back burner and launched Live Search to compete with Google and Yahoo.
Then came Web 2.0, where people became more active participants rather than remain passive users. Web 2.0 allowed users to interact with other users and businesses. Labels like 'super information highway' began to be applied to the internet. As a result, information flow volumes –including channels utilized by digital marketers- increased manifold, and by 2004, internet advertising and marketing in the US alone brought in around $2.9 billion.
Soon, social networking sites began to emerge. MySpace was the first social networking site to arrive, soon followed by Facebook. Many companies realized all these fresh new sites that were popping up were beginning to open new doors of opportunities to market their products and brands. It opened fresh avenues for business and signaled the beginning of a new chapter to business. With new resources, they needed new approaches to promote their brands & capitalize on the social networking platform.
The cookie was another important milestone in the digital marketing industry. Advertisers had begun to look for other ways to capitalize on the fledgling technology. One such technique was to track common browsing habits and usage patterns of frequent users of the internet so as to tailor promotions and marketing collateral to their tastes. The first cookie was designed to record user-habits. The use of the cookie has changed over the years, and cookies today are coded to offer marketers a variety of ways to collect literal user data.
Products marketed digitally are now available to customers at all times. Statistics collected by the Marketing techblog for 2014 show that posting on social media is the top online activity in the US. The average American spends 37 minutes a day on social media. 99% of digital marketers use Facebook to market, 97% use Twitter, 69% use Pinterest and 59% use Instagram. 70% of B2C marketers have acquired customers through Facebook. 67% of Twitter users are far more likely to buy from brands that they follow on Twitter. 83.8% of luxury brands have a presence on Pinterest. The top three social networking sites used by marketers are LinkedIn, Twitter, and Facebook.